It's the start of the New Year and a great time to take on one of the most dreaded tasks in digital: the content audit. Dum Dum Dahhhhhhhhhh!
In the age of conversational communications, multi-channel strategies and superstar social influencers, the key is getting a grip on what content you have, and whether or not it's engaging your audience in the activities you want them to do.
One thing every organization has in common is that, regardless of their goals, targets and audience, all need great content to connect, engage and inspire people to support your cause.
To start you off, here are four tools (all have free or trial versions) that we at Corelab find really helpful when starting a content audit of any website.
Knowing where you are - DynoMapper
Site-maps are not only fantastic for having a clear overview of the structure of your site, but are also great tool for spotting if your Information Architecture is following your organizational structure rather than servicing your audience needs. I have found DynoMapper to be a great tool as it not only shows you site structure and hierarchy, but also let's you know what links are broken, where you are missing meta data, as well as integrating with your Google Analytics, so you can also understand and find out more about how your website visitors are engaging with it, where they go next, and their demographics.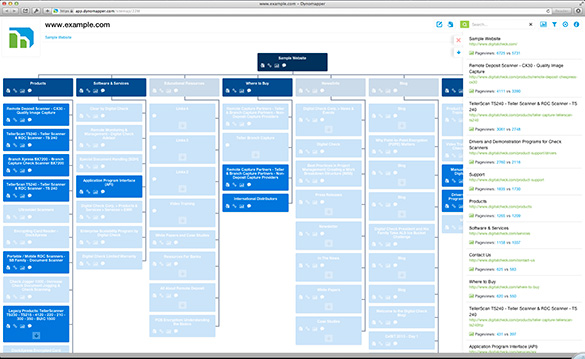 One of the biggest problems that many nonprofit organizations have is creating content that appeals to their staff and senior management, rather than creating content that engages and inspires their varied audiences.
Many organizations use complex data segmentation, algorithms and highly tested PEN portraits of their supporter base to get a good understanding of their audience and what types of content will appeal to them.
If you haven't got the budget (or your data is too messy to segment) using Survey Monkey on a regular basis to interact and better understand your audience is a good way to gather this type of information.
If you use the Pro-version, Survey Monkey also has templates of ready to go question sets, including many relevant to understanding your audience better.
Knowing what your audience is doing - Inspectlet
Watching how your website visitors use your site in real-time sounds a bit creepy, but understanding what grabs their attention and where they are getting confused is really important.
Heat Map tools are a fantastic way to find out how your website visitors interact with both the information architecture and the content of your website. You can see what type of content they gravitate to first on any page, and which bits they completely skip over.
Inspectlet is a tool that is easy to use and gives you feedback and even session recording on how people use and navigate your site, in particular how people respond to your forms and where they drop off — the kind of knowledge that could easily, for example, double your online donations.
Knowing what to tweak - Optimizely
So after going through the steps above, you should probably now have an amazing new approach for your content that you want to add to your site, and banish the old content to the archives.
Hold up! Before you delete that old content, you need to test your assumptions and newly found knowledge in the real world. An A/B test tool like Optimizely, allows you to have two versions of one page, that will randomly appear to your website visitors, so you can test if they are responding in they way you thought they would.
You can test entire new layouts, or just a tiny change in a form, to see if that improves the performance of your page or take the insights back and re-tweak the page.
Tweet your thoughts to @Corelaborate
See more of what we love and get email updates.